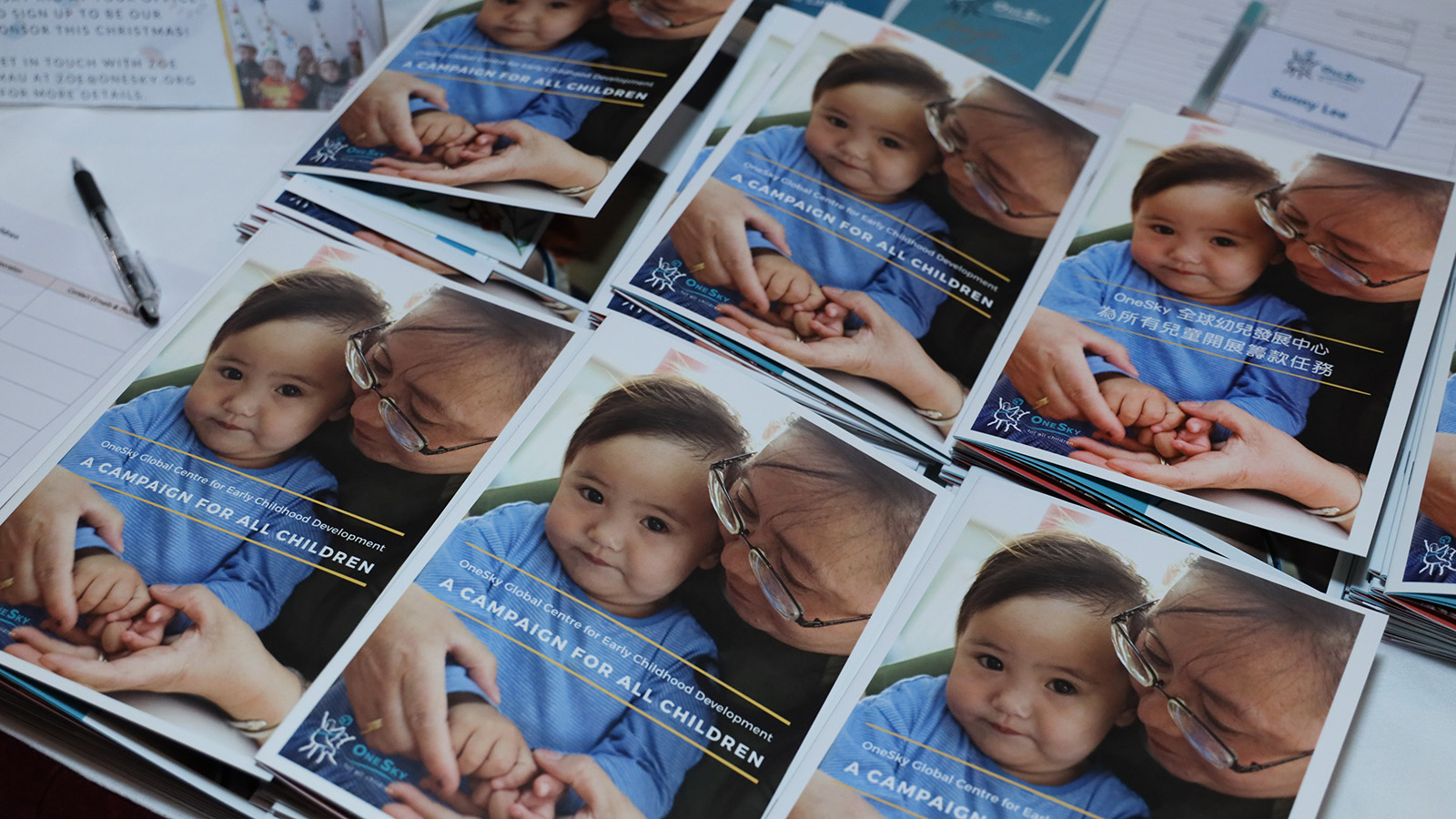 FOR IMMEDIATE RELEASE
OneSky launches a USD 20 million Campaign for all Children
To establish the OneSky Global Centre for Early Childhood Development in Hong Kong
in support of the city's most vulnerable children
Hong Kong, 16 October 2018 —OneSky is excited to announce the launch of its Campaign for all Children, a USD 20 million fundraising effort to build a better future for the disadvantaged children of Hong Kong and the Asia Pacific region by creating the OneSky Global Centre for Early Childhood Development (the 'Centre'), a world-class hub for quality early education and nurture and caregiver training as well as a resource for professionals in the field.
Scheduled to open mid-2019, the Centre will provide science-based early nurturing and education in an inclusive, multicultural setting for 166 children ages 0-6 annually. OneSky has signed a lease for the new Centre, a 16,000 square feet space in the Wing Shing Building located in the heart of Hong Kong's Sham Shui Po district within walking distance of a number of government-subsidized housing estates and subdivided flats.
The Centre will include early nurture and education rooms for children 0-3, playrooms for children 3-6, a space for Parenting Skills Workshops offered at hours convenient for parents, and a Community Engagement Programme for new arrivals to Hong Kong and others who lack social connections where parents, grandparents, and children will gather for playgroups, workshops, holiday parties and special events. To accommodate parents who work extra-long days or non-standard shifts, caregivers at the Centre will be available during extended hours.
Like all of OneSky's work bringing quality early nurture and education to the world's most vulnerable children, the Centre is designed to be scalable to other areas in Hong Kong via satellite centres and other areas in the Asia Pacific region as well. To that end, the Centre will be a training base where experienced trainers teach the unique OneSky approach to working with at-risk children and families to early childhood educators, social workers, education specialists and programme directors from local and regional child-focused NGO and social service organisations.
The Centre will also serve as a gathering place for those committed to early childhood nurture and education in Hong Kong, where one out of five children live in poverty, and other Asia Pacific regions where the gap between rich and poor is also widening. In partnership with local NGOs, academics, and social service offices, OneSky will invite guest speakers to share information about innovations in early childhood care and education, best practices, and current research. Community partners will also have access to OneSky's online learning community, which offers user-friendly forums and an extensive multimedia training library.
Says OneSky's Founder and CEO Jenny Bowen: "Over the years, the Hong Kong community has provided crucial support for OneSky's mission to bring quality nurture and early education to the world's most vulnerable children. I am delighted that this generous community is now coming together to support our OneSky Global Centre for Early Childhood Development, which will serve Hong Kong's often-forgotten disadvantaged children and also serve as a valuable resource for like-minded Hong Kong organisations."
The Official launch of Campaign for all Children in Hong Kong will take place on Tuesday, 23 October 2018 at the Hong Kong Foreign Correspondents Club. For more information, please contact OneSky.
###
About OneSky for all children
Founded in 1998, OneSky teaches communities and caregivers to provide nurturing responsive care and early education that unlocks the vast potential hidden in our world's most vulnerable young children.
In China, OneSky has transformed the lives of many thousands of marginalized children and helped China re-imagine its entire child welfare system. In 2008, OneSky became one of only a handful of NGOs officially recognized and legally registered by the Chinese government; in 2017, when China instituted strict new regulations government foreign NGOs, OneSky was one of the first twenty organizations to be re-registered. In Vietnam, OneSky has tailored its approach to address the needs of 1.2 million children of migrant factory workers and opened the Da Nang Early Learning Center, which has been designed as a model that can be replicated across the country.
With the establishment of the OneSky Global Centre for Early Childhood Development in Hong Kong, OneSky will bring to the city, its established programmes and methodologies to support the city's most disadvantaged children and provide education and training for caregivers from across Asia.
About Founder and CEO, Jenny Bowen
About Jenny Bowen, Founder of OneSky: http://skoll.org/contributor/jenny-bowen/
About the Campaign for all Children
Susanna Lee, Director of Development, Hong Kong
susanna@onesky.org
Phone: +852 2520 5266
https://hkcentre.onesky.org/wp-content/uploads/2018/10/SAM_0005.jpg
900
1600
Ivy Yu
https://hkcentre.onesky.org/wp-content/uploads/2020/04/onesky_logo_AW-CMYK-OSGC-1.png
Ivy Yu
2018-10-22 22:42:22
2019-03-12 01:05:48
OneSky Global Centre Launch Press Release