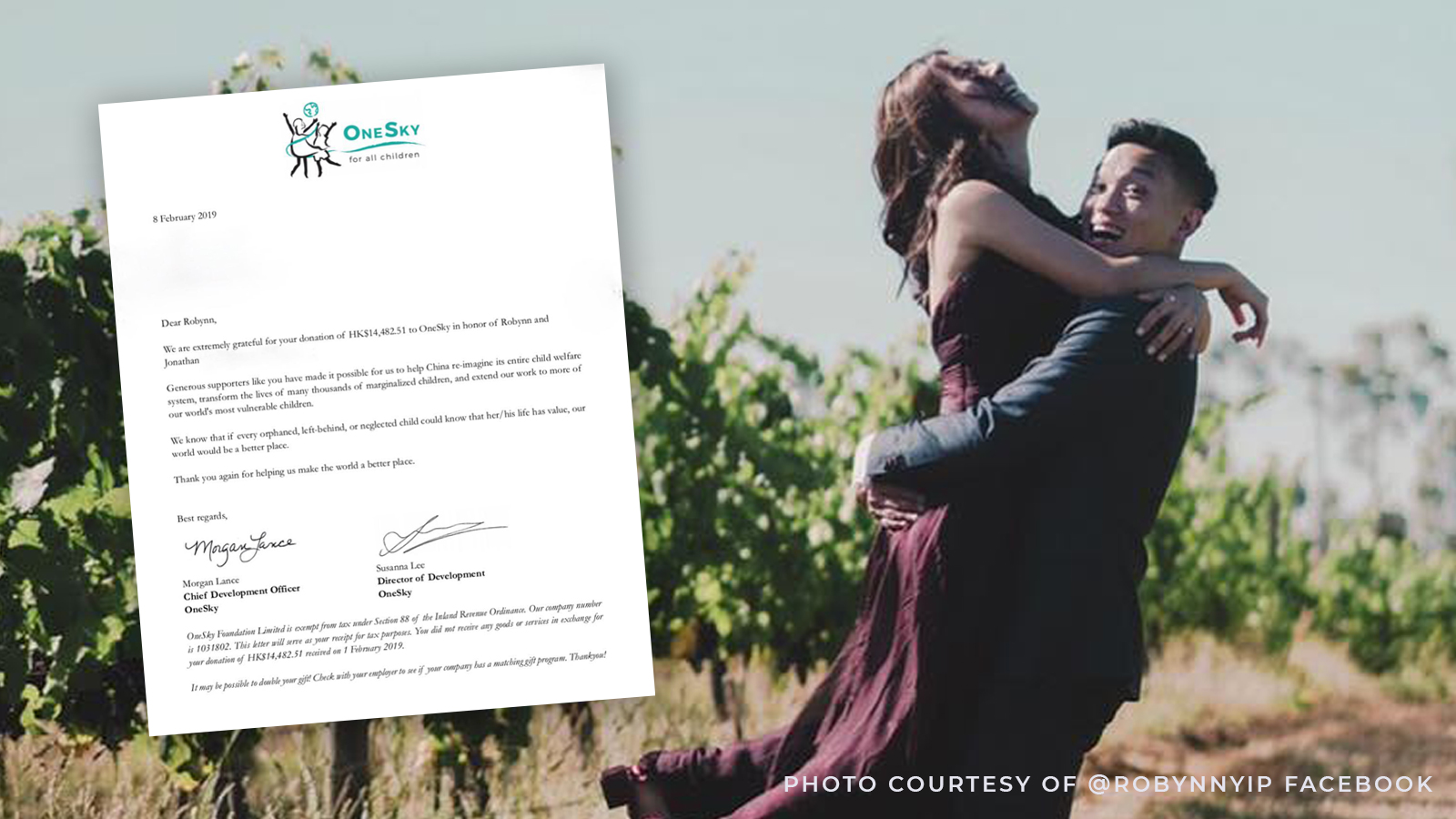 When singer and internet star Robynn was planning her dream wedding with her future husband Jonathan they were determined to share their love with those less fortunate.
So they turned to OneSky.
OneSky helps bring love to the world's most vulnerable children. By training communities and caregivers to provide nurturing responsive care, OneSky shows children that their lives matter, helping them meet their full potential.
For children – love, laughing, learning and having fun – can be the difference between natural happy progress and delayed development.
With this in mind, Robynn and Jonathan requested that instead of wedding gifts, guests could instead donate to OneSky, via the Two Presents platform. Their incredible gesture raised HK$14,482.
Could you follow Robynn's lead and share your special day with OneSky? Find out how.
Robynn is half of Canto-pop duo Robynn & Kendy who first came to prominence with a huge internet following before being signed by Universal Music.
"For this amazing couple to share their love and good fortune with young children born with so very little, speaks volumes about them, said OneSky Director of Development Susanna Lee. "And what could be more perfect – celebrating their own bond by helping provide the loving care that so many children still need. We can't thank them both enough. They are an inspiration".
OneSky is scheduled to open its Global Centre for Early Childhood Development in Hong Kong later this year. The centre will be a world-class hub for quality early education and nurture and caregiver training.
It will also provide science-based early nurturing and education in an inclusive, multicultural setting for 166 local children aged up to six, each year. The 16,000 square feet space is located in Hong Kong's Sham Shui Po district, within walking distance of government-subsidized housing estates and subdivided flats.
OneSky sends best wishes to Robynn and Jonathan and our gratitude for their wonderfully generous wedding gift!
This post is also available in: Chinese (Traditional)
https://hkcentre.onesky.org/wp-content/uploads/2019/03/RobynnHeader.jpg
900
1600
Steve Jackson
https://hkcentre.onesky.org/wp-content/uploads/2020/04/onesky_logo_AW-CMYK-OSGC-1.png
Steve Jackson
2019-03-01 03:16:18
2019-03-01 17:30:47
This Hong Kong singer said no to wedding gifts - she wanted donations to help children instead